Bobby Driscoll as Johnny

Born: March 3, 1937; Cedar Rapids, IA

Died: March 30, 1968; New York, NY (Age 31)
If it wasn't for the sinus problems of Bobby's father, the silver screen would have most likely never discovered him. The Driscoll family settled in Pasadena, CA in an effort to relieve Cletus Driscoll (Bobby's father) of sinus conditions. Through the son of their barber, William Kadel, Bobby was brought to a mass interview at the MGM studios and found himself with a small, uncredited role in Lost Angel (1943).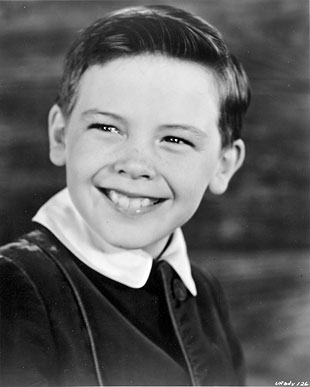 Up until 1946 Bobby Driscoll had been playing minor roles in various films, but Song of the South was his big break. Playing the plantation boy who clung onto every word Uncle Remus spoke, Bobby delivered his role flawlessly and it was clear to see Walt Disney had picked a winner. He was the first actor to be under a personal contract with the Walt Disney studio.
Bobby went on to play notable performances in Disney movies such as Melody Time (1948), Pecos Bill (1948), So Dear To My Heart (1949), Treasure Island (1950), and the voice of Peter Pan in Peter Pan (1953), his last production with Disney. Bobby was hired as a child actor, and when he was no longer a child, he lost his handle in the acting industry.
Bobby Driscoll is allegedly quoted as saying:
"They carried me on a satin pillow, then dumped me in the garbage."
The rest of his life is the story of tragedy. Dejected, Bobby turned to drugs. He wasted his money and future, and died in poverty at the age of 31 from hepatitis. He was discovered dead by two children playing in an abandoned Greenwich Village tenament in New York. Unidentified, he was buried in an anonymous grave and it wasn't until a year later that they discovered his identity through fingerprints. According to a 1946 Song of the South radio interview, his childhood goal was to become a sergeant in the U.S. Marines.