Glenn Leedy as Toby

Born: December 31, 1935; Sand Springs, OK

Died: April 19, 2004; Imperial Valley, CA (Age 68)
Glenn Leedy Allen, Sr. was born Dec. 31, 1935, in Sand Springs, Oklahoma, and moved to Phoenix when he was a toddler.

After the death of his mother, Pauline Roberson, his grandmother, Ivy Allen, adopted him and his sister, Leslie. They later changed their last name to Allen.

At age 7, while on the playground of the Booker T. Washington school in Phoenix, AZ (where much of Song of the South was filmed), a talent scout from the Walt Disney movie studios discovered and recruited him the role of Toby in Song of the South. The family relocated to Los Angeles to help him pursue a career in films. He was featured in several other films as well (exactly what films, however, are not currently known.) During filming of Song of the South, he was tutored on the set. When filming was completed, he attended public schools in the Los Angeles Unified School District.

As stated in Song of the South's 1946 press release:
"During the filming he ran to where the producer sat watching the action, and, showing he had mastered the lingo of the business as well as the manner of the actor, asked, "Am I colossal, Mr. Disney?" Reassured, Glen went on to other triumphs in one of the brightest performances of the picture."
He married Blanche Hill in Yuma on May 21, 1955. They had four children and separated in 1970.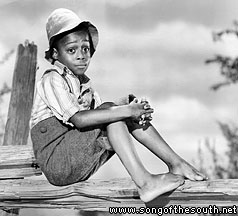 Mr. Allen then married Carol Wilson on Oct. 22, 1979, and they had three children while residing in Los Angeles. They later moved to El Centro, where he found his father, Lester Leedy. He and Carol divorced in 1985.

He then met Janie Tucker in 1985, with whom he lived and raised a family of eight children. They married on Jan. 15, 1994.
Sadly, Glenn Leedy passed away on April 19, 2004 at the age of 68 at Pioneers Memorial Hospital in Brawley, CA.