Luana Patten as Ginny Favers

"Walt's Little Darling"

Born: July 6, 1938; Long Beach, CA

Died: May 1, 1996; Long Beach, CA (Age 57)
A professional model since age 3, Patten first caught the attention of Disney when she appeared on the cover of "Woman's Home Companion" magazine.
"I'll never forget the day I went to audition for him [Disney]," recalled Patten. "My mother took me to the Hollywood Bowl where there were hundreds of little girls also auditioning. It was narrowed down to me and five other girls. We each had a screen test and I was the lucky one to win the role of Ginny."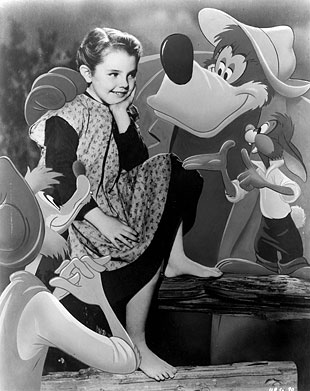 Luana Patten's debut was Song of the South in 1946 as the poor but lovable Ginny Favers. Like Bobby Driscoll, she showed great talent and was the first actress to sign a long-term contract with Disney. Between Luana and Bobby, dubbed the "Sweetheart Team", Disney had a dynamic duo of sorts. They were the perfect childhood couple and, with the exception of Luana's sole appearance in Fun and Fancy Free (1947), they went on to co-star together in future Disney productions of that decade, including Pecos Bill (1948), Melody Time (1948), and So Dear To My Heart (1949).
In 1956, Luana Patten attended Wilson High School in Long Beach, CA, and was working as a box office cashier at the Lakewood Theater when it was held up. Interestingly, the movie playing at the time was Song of the South.
She was featured in two other Disney films, Johnny Tremain (1957) and Follow Me, Boys! (1966). When her contract with Disney expired, she went under contract with Universal and starred in such films as Rock Pretty Baby, Joe Dakota (1957), and The Restless Year (1959). While under contract with MGM, she was featured in such films as Home From The Hill (1959), Go Naked In The World (1960) and Thunder of Drums (1961). On television, Patten was often credited as "The Pioneer Gal" in shows like Rawhide, Wagon Train, Bonanza, Daniel Boone, and F-Troop.
Patten retired from the screen in the early 70's, and her last cameo was in Grotesque (1988). She passed away in 1996 of respiratory failure.