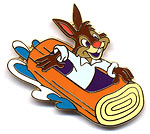 Disneyland Resort recently released two new Splash Mountain pins depicting Brer Rabbit released on Sunday, May 7, 2006.
The first pin features Brer Rabbit in a Splash Mountain log. Part of the E-Ticket Thrills Collection, this pin was a Gift With Purchase pin, available with each $20 purchase of pins or pin accessories at select Disneyland Resort locations.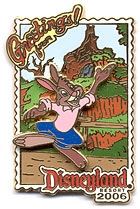 The second pin depicts Brer Rabbit in the foreground of a pin-on-pin design with Splash Mountain in the background on a postage stamp. This pin, part of the Greetings from Disneyland Resort 2006 series, was limited to an edition of 1000 and retailed for $10.95.