Hi everyone, here are a couple of site updates: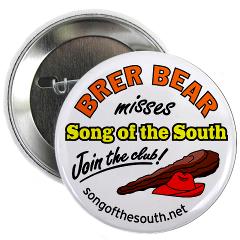 1) SongoftheSouth.net Merchandise (t-shirts, mugs, buttons, etc.) has received a much-needed overhaul, with literally dozens of new merchandise added. When I initially created these t-shirt designs back in 2005, CafePress.com (the company that makes these) had a very limited selection to choose from. Since then, they've added dark-colored clothing, baby clothes, and lots more. I thought it was high time I took advantage of this. I also created a new design as well. Check out the revamped store!
2) Song of the South Petition. Since approximately mid-April, the Song of the South Petition was no longer being updated with the latest signatures. I contacted PetitionOnline.com, but to no avail. Apparently Change.org is now the owner, and they've all but abandoned support for the old site. I was seriously considering starting a new petition over at Change.org, but their petitions have a maximum age of one year, so I would have to start a new one every year. Fortunately, the original petition has started working again! Unfortunately, anyone who signed the petition from April to mid-June probably didn't get added. You might want to check and see if your name is there, and if not, try adding it again.
That's it for now. Thanks for reading!