Quint over at Ain't It Cool News has posted his Behind the Scenes Pic of the Day for Friday, entitled "Please don't throw the Behind the Scenes Pic of the Day in that briar patch!"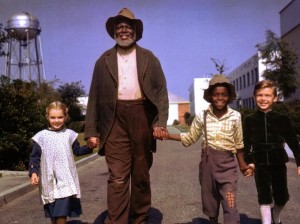 This backlot photo features James Baskett (Uncle Remus), Bobby Driscoll (Johnny), Glenn Leedy (Toby), and Luana Patten (Ginny). It was also used in 1986 for Song of the South's final theatrical release (as line art). This photo appears courtesy of the D23 fan club magazine.
Also of note is the article, in which Quint talks about speaking to an unnamed ex-Disney executive a few years ago, asking him if we'll ever see this film released on DVD or Blu-Ray. "His response: 'Never.' I asked why. 'Because it's racist,' he exclaimed. I know that's the general perception of this film, but I was still taken aback. I thought for a second and asked, 'Have you seen it?' Incredibly he said he hadn't and that right there is the root of the problem."
Indeed, this is the exact problem that Disney has created by not releasing this film: it perpetuates the stigma surrounding this film. When Disney's own executives haven't seen this movie, yet condemn it as "racist", something is wrong here. And with that I'll step down from my soapbox too.
I would encourage everyone to read Quint's short article that accompanies this great behind the scenes photo. Thank you to the anonymous person that alerted me to this article, and thanks to Quint over at Ain't It Cool News for posting it!