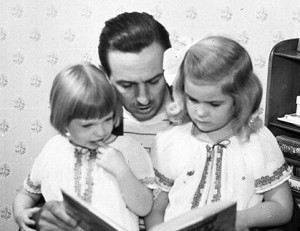 It is with great sadness that we report the passing of Walt Disney's oldest daughter, Diane Disney Miller. Diane was born to Walt and Lillian Disney in 1933. She passed away at the age of 79 from injuries sustained in a fall. Diane is survived by her husband Ron W. Miller, seven children, 13 grandchildren, and one great-grandchild.
Song of the South, Diane recollected, "…was a film [Walt] really wanted to do. My dad quoted so much from Uncle Remus' logic and philosophy."
We extend our sincere condolences to the Miller family, and thank Diane for everything she accomplished to carry on the legacy of her father. Diane was instrumental in the creation of the Walt Disney Concert Hall in Los Angeles, CA and the Walt Disney Family Museum in San Francisco, CA. She will be missed.