December 18, 2000
Nick Stewart Passes Away

Originally posted to the alt.obituaries news group:
Nick 'Lightnin' Stewart Dies.
Cultural Activist and Last Survivor of Amos and Andy TV Show
The Maxwell Street Historic Preservation Coalition is sad to announce that, in Los Angeles on Monday [December] 18 at age 90, Nick 'Lightnin' Stewart passed away. Mr. Stewart was a prominent actor, teacher, preservationist, cultural and community activist, the last surviving member of the famous Amos and Andy TV Show, and the voice of Brer Bear in Disney's "Song of the South".
He and his family are strong supporters for Maxwell Street preservation and have a letter for saving Maxwell Street here. Maxwell Street Coalition Vice President and Roosevelt University Professor Steve Balkin says, "Mr. Stewart and his family [have] been fighting for several years against politicians, HUD, and the Community Redevelopment Agency to preserve their famous Ebony Showcase Theatre complex on Washington Boulevard in Los Angeles. We have given each other moral support in our similar fights for community and American cultural preservation. He is a gracious gentleman and one of my most favorite actors."
Founded in the 1950s, Nick and Edna Stewart poured their savings into this theater and culture arts complex to provide theatrical and cultural performance opportunities that would be open to everyone. People of all races were always welcome there. The Ebony Showcase Theatre and Cultural Arts Center became a non-profit organization and people such as Sammy Davis Jr., Etta James, and Eric Clapton performed there. For more information on this preservation issue and to view a picture of Mr. Stewart in 1950 with Alan Young, click here.
Chicago Bluesman Jimmie Lee Robinson says, "Mr. Lightnin and his family called me in March of 1999 on his 89th birthday. His daughter Valarie Stewart often calls me to talk about the similar problems we are having with Maxwell Street and that they are having in Los Angeles with trying to save their cultural center. He and his family have fought a great battle and are still fighting. When I talked to Nick he said 'he can't understand why the City of Chicago haven't came to support and save the old Maxwell St area. We are having the same problems here in Los Angeles. As long as I live, I will never never give up.'"
Robinson further comments, "I am very sorry to hear of his passing. He was a pioneer. We love him and will miss him."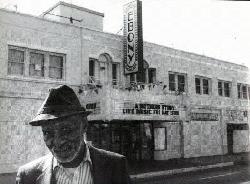 Nick Stewart standing in front of his brainchild, the Ebony Showcase Theater, established in 1950.

From the Stewart Family:
There will be a memorial on Saturday, December 23 at 10:45 AM. We ask that, in lieu of flowers, donations be made to the Ebony Showcase Theatre and Cultural Arts Center, Inc., the 501(c)(3) non profit organization that he and my mother founded. The memorial will be held at:
The Agape Church of Religious Science
5700 Buckingham Parkway
Culver City, CA 90230-6517
Phone: (310) 348-1250

The address of the Ebony Showcase Theatre and Cultural Arts Center is:
Ebony Showcase Theatre
and Cultural Arts Center
1285 S. La Brea Ave.
Suite 203
Los Angeles, CA 90019
Phone: (323) 965-8837
Fax: (323) 965-0420 (fax)
http://www.ebonyshowcase.org
For more information, contact Valarie Stewart at the address/phone above or via e-mail to:
talentscout@ebonyshowcase.org
Other sites related to Nick Stewart, "Song of the South", and "Amos 'n' Andy" are located here.