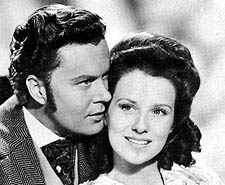 Very sadly, Ruth Warrick passed away on January 15 at the age of 88. She was the last known surviving actress fromSong of the South.
Ruth Warrick's film debut was in the 1941 masterpiece Citizen Kane as Emily Norton Kane. She went on to perform in several other movies throughout the 1940's and early 1950's, including Sally in Song of the South. On TV, she was perhaps best known as Phoebe from the soap opera All My Children.
To Ms. Warrick, Song of the South would always be "a very special movie." She was saddened by the fact that the movie had not been released, and felt that the movie was "probably one of [Disney's] crowning points." She will be greatly missed.