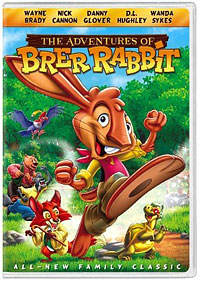 As of February 14, Universal's The Adventures of Brer Rabbit DVD is now available through Amazon.com for pre-order and is scheduled for a release date of March 21.
While the movie itself may not be directly related to Disney, it certainly has some Disney ties: the Executive Producer is former Disney artist Tad Stones, Director is Byron Vaughn, and Line Producer is Mary Thorne. And with the vocal talents of African-American stars Wayne Brady, Danny Glover, Phil LaMarr, Nick Cannon, D.L. Hughley, Wanda Sykes, and others, it sounds like it will be a great movie! This is Universal's first direct-to-DVD release of a movie not based off of a feature film.
For more in-depth background information on the movie, I encourage you all to read Animation World Magazine's article entitled The Tad Stones Interview. I certainly hope that this movie is received well, because if it is, it could possibly help pave the way for Disney to roll out the long-rumored 60th anniversary DVD of Song of the South we've been hoping for.