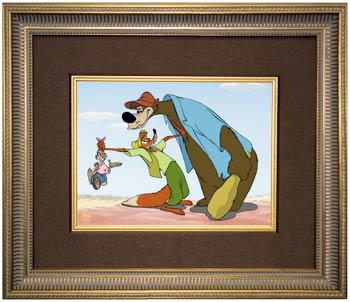 Today, Disney announced the new club "D23", a web site that is touted to be the "premier online destination for Disney fans." Membership costs $75 a year, and "perks" include 4 newsletters a year, and exclusive collectibles.
One such collectible available for preorder from the D23 Boutique is a limited edition, framed cel from Song of the South:
"Find your laughing place with our D23 Membership Exclusive Framed Limited-Edition Song of the South Cel. Br'er Fox and Br'er Bear bicker over the fate of a captive Br'er Rabbit on this hand-painted limited edition cel inspired by Walt Disney's 1946 film classic, Song of the South. If our hero uses his head and a bit of trickery, he's sure to escape once again. Matched to original production art by the world famous Disney Animation Ink and Paint department, each Br'er Rabbit cel is hand-numbered and comes complete with a Certificate of Authenticity. The background is printed on museum-quality paper with archival inks. Made in U.S.A. Available to own April 15, 2009."
• Hand-inked and painted cel on acetate
• Fine art background print on paper
• Wood frame with fabric mat & UV coated plexiglass
• Framed size 19" H x 22" W.
• Image size: 10 1/2" H x 12 1/2" W
• Hand-numbered Limited Edition of 23
• Certificate of Authenticity
The price? $1,495.95.
Thanks to Merlin Jones for the news report!