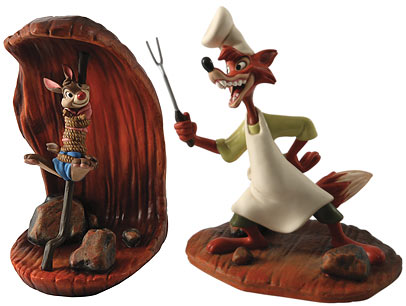 For the first time since 1996, this summer's Walt Disney Classics Collection release includes Song of the South themed figurines. Entitled "Brer Fox & Brer Rabbit: Cooking Up a Plan/Last Laugh", the set depicts Brer Rabbit and Brer Fox from the beginning of the Laughing Place sequence of Song of the South, in which Brer Fox is about to cook up Brer Rabbit. Interestingly, Song of the South isn't mentioned at all in the official product description:
"Walt Disney loved the animal fables penned by Joel Chandler Harris in which clever Brer Rabbit constantly outfoxed crafty Brer Fox— but this time it looks like it's the hungry fox who has the upper hand. But never fear, quick-thinking Brer Rabbit will have the last laugh. First brought to life through Disney animation, these fanciful folklore critters have been immortalized in the classic Disney Theme Park attraction Splash Mountain. These fun-filled sculptures are plussed with a bronze fork and pewter neck on Brer Fox and a pewter pole for Brer Rabbit."
The set was sculpted by Rubén Procopio, and the suggested retail price is $225.00 for the set. The full Summer 2010 catalog can be viewed on the official Walt Disney Classics Collection web site. Thanks to Michael Damato for the news report!