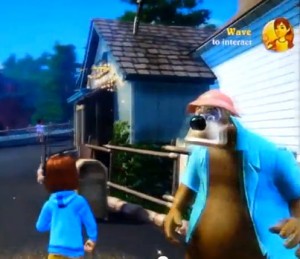 In case you haven't heard, Disney fans are abuzz with a brand new Disney video game in town. Kinect Disneyland Adventures is a truly virtual Disneyland for the Xbox 360, and I must say the graphics are quite impressive. There are many interactive meet-and-greet characters throughout the park, and all of the park's main attractions are interactive "mini games".
If you're wondering, "Does that include Splash Mountain?" I am happy to report yes! Even Brer Bear and Brer Fox appear as animated meet-and-greet characters near Critter Country. On Song of the South's Facebook page, Philip Marc shared with us a link to a YouTube video clip that briefly shows Brer Bear and Brer Fox, and the façade to Splash Mountain.
As the game isn't scheduled for release until November 15th, details are still a little scarce, and I haven't been able to find any screenshots or video clips of the actual Splash Mountain attraction. But, if the demos of other attractions are any indication, expect to see at least a few "Brer" cameos from the ride! More will be posted as soon as we get more info. It should be noted that this is the first time any characters from Walt Disney's Song of the South have made it into a video game (that I'm aware of).
Kinect Disneyland Adventures is currently available for preorder on Amazon.com. The game requires a Microsoft Xbox 360 with the Kinect add-on.