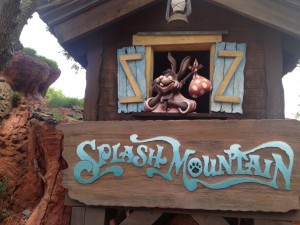 The official Turner Classic Movies blog, MovieMorlocks.com, has posted a blog on August  17th discussing Song of the South. Author David Kalat recently celebrated his 20th wedding anniversary at  Walt Disney World (congratulations!), when he "ran across an interesting paradox":
You see, over the years, Disney has retired some rides because their source material was deemed too obscure (bye bye Mr. Toad's Wild Ride), and even some that didn't seem all that obscure got the axe to make way for attractions based on the latest releases (bye bye 20,000 Leagues Under the Sea).

Given this policy, the enduring popularity of Splash Mountain at the Magic Kingdom is something to marvel at, since the ride is based on perhaps the most obscure work in the entire Disney canon, Song of the South. Weirder still, Splash Mountain debuted in 1989, a few years after its source material Song of the South was decommissioned and mothballed. It would have been easier to just forget Song of the South ever existed–but there's something about this film that is not so easily forgotten.
The full blog post goes into detail on the background and controversy surrounding Song of the South, and includes several screenshots of both the film and the Splash Mountain ride. There's a good discussion going on in the comments section as well:
http://moviemorlocks.com/2013/08/17/zip-a-dee-doo-dah/
Thanks to Stephen Cooke for informing me of the blog post, and to David Kalat for posting it!