On this day exactly 64 years ago, Song of the South made its worldwide debut at the Fox Theater in Atlanta, Georgia. Look at the some of the photos from the premier (courtesy of the Georgia State University Library), or take a look at some of the promotional materials released for the premier.
Today also marks SongoftheSouth.net's 10th Anniversary! (Wow, has it really been that long?!) This web site was officially launched on November 12, 2000 (and this is how it looked). In those 10 years, this site has grown from a few visitors a day to several hundred; I've been honored to be contacted by several relatives of those who were involved in this film, and even briefly featured on CNN.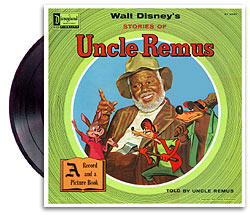 In commemoration of this 10-year milestone, I figured it would be appropriate to bring back Song of the South Radio, featuring over three hours of music and vintage radio ads from Song of the South. I originally created the radio station for Song of the South's 60th anniversary in 2006, but it proved so popular that I kept it going. Recently the subscription lapsed, but now it's back for good. Enjoy! And if you like the station, please add it to your favorites.
You'll also notice that Facebook and Twitter buttons have been added to the bottom of the news articles. I've seen these become more ubiquitous with news and blog sites, so I figured I'd try it out just for fun. 🙂 Let me know if they work (or don't!)
My biggest thank you goes out to you, the visitors, for all your support over the years! Let's always remember the real reason for this web site: provide the public with the most information available on Song of the South. Disney won't, so it is up to us to keep the public informed. Keep the faith! I am confident we will see this movie released.