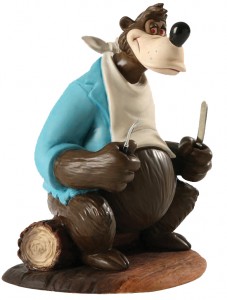 Announced in May, a new Walt Disney Classics Collection figurine from Walt Disney's Song of the South is joining the Summer 2011 releases. The new WDCC figurine features Brer Bear and is entitled "A Hankering for Hare." This piece is designed to complement the Brer Fox and Brer Rabbit set released in 2010, entitled "Cooking Up a Plan" and "Last Laugh", respectively. The three pieces form a scene from the Laughing Place animated sequence of Song of the South (you can watch the YouTube clip here).
"Galumphing and a bit bumbling, Brer Bear is Brer Fox's bosom buddy, so when the crafty fox is ready to roast Brer Rabbit for dinner, the burly big guy is more than ready to dig in."
The figurine measures 7.5″ high, and is plussed with a pewter fork and knife. It is sculpted by Patrick Romandy-Simmons, and has a suggested retail price of $185.00. It is currently available for pre-order from WDCC authorized dealers and will be released this summer. Special thanks to Brian Slatky for the news report!